Our partner Nolo is introducing the first Homido-compatible mobile positional tracking system and is providing access to SteamVR content
Mobile positional tracking is a technology that was expected for nearly a year, and our partner Nolo has just launched a Kickstarter campaign to finance its ambitious project.
As of May, starting at $89 you can get the following pack consisting of:
a detection base

a "tracker" to be placed on the headset as well as two supports

two 9-axis motion controllers

a 4 meter USB cable for SteamVR compatibility
a 25cm USB cable to connect the "tracker" and the smartphone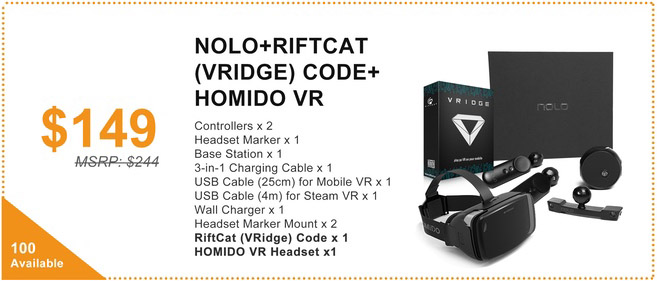 The "all-in-one" package, including a RiftCat license and a Homido V2 headset, is available starting from $149.
Hurry, with the funds for the project already in place, the packs are selling very fast!
What can be done with this solution?
The solution developed by our partners allows a multitude of things today and many more things to come.
Positional tracking for mobile applications
Nolo is compatible with Cardboard/Gear VR and Daydream applications. A simple Unity plug-in is already available, and the Unreal engine plug-in is also provided for easy integration. The iOS world has not been forgotten, and the Nolo and RiftCat teams are actively working on a compatibility that will be in effect at the end of the year.
SteamVR at a lower cost
Thanks to RiftCat's know-how, Nolo allows you to access the SteamVR catalog with a Homido V2 headset. Once the Homido V2 is equipped with the Nolo system, it becomes possible to use all the VR applications of the famous Valve PC game platform.
Use a SteamVR app with a Homido headset.
Features of the pack
Detection base:
Dimensions: 78 x 44.5 x 76.15mm

Weight: 160g

Charging time: 4h

Autonomy: 4h
Tracker:
Dimensions: 138.8 x 44.8mm

Weight: 60g
Controllers:
Dimensions: 151.3 x 40 x 43.3mm

Weight: 90g

Charging time: 2h

Autonomy: 7h
General features:
Play area (Roomscale) : 4 x 4m

Latency: <20ms

Accuracy: <2mm

Frequency: 60Hz
Both controllers have a haptic feedback!
---
Keep checking Homido News for more information on mobile virtual reality.
Feel free to give your opinion in the comments section below.