User's positioning within the space
User's positioning within the space, commonly known as "positional tracking" is as important as the correct copying of gestures. Positional tracking allows you to physically move in a virtual environment. This is what HTC brilliantly demonstrated with its Vive.
At the moment, some startups like Occipital or Vico VR are working on solutions potentially adaptable to virtual reality.
Today, two working principles clash, each with their own advantages and disadvantages.
The "embedded" method
A solution used by Occipital is Google's Tango project. It involves a device positioned directly on the virtual reality headset and wired to the smartphone. The device uses the smartphone's RGB camera and combines it with an infrared camera/infrared projector duo positioned on the headset. This method can capture the environment in an unlimited area because it moves with the user. This solution also allows to scan real 3D environment to eventually define virtual barriers.
This solution opens numerous possibilities:
Environmental modelling;
Moving within the virtual environment (positional tracking);
Hand gestures capture.
This solution is similar to that proposed by Google with the Tango project: it is quite possible that in the near future the high-end smartphones will have the necessary technology, like the Lenovo Phab 2 Pro. 
The "Kinect" method
This is the method used in particular by Vico VR, and it is based on the Orbbec material, inspired by the work of PrimeSense (Israeli startup behind the Kinect).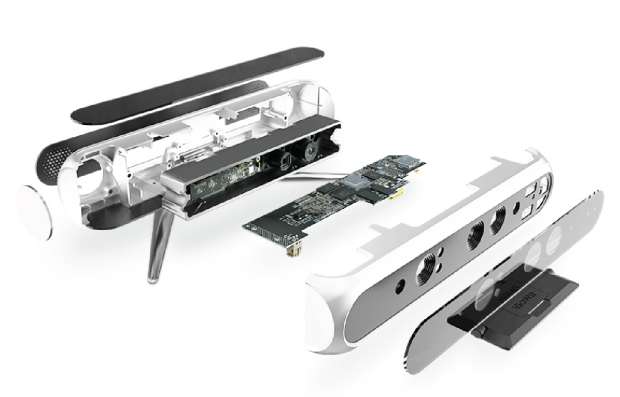 The operating principle is similar to that implemented by Microsoft. Motion and environment capture are carried out by a device located in front of the user; it usually has an RGB camera, an infrared camera and an infrared projector. The advantage of this method is to save the smartphone's battery since the device has its own power supply; the disadvantage being that the capture area is limited by the peripheral field of view. This type of equipment is best suited to capturing the user's movements than to capturing its position within the space.
---
Keep checking Homido News for more information on mobile virtual reality.
 Feel free to give your opinion in the comments section below.