Cmoar VR Cinema Pro supporte Plex
La dernière mise à jour de VR Cinema Pro édité par Cmoar à qui l'on doit le futur casque VR mobile et actif du même nom, vient d'être déployée. Parmi les nouvelles fonctions, nous retrouvons donc une compatibilité avec les médias-center sous Plex. Plex est un logiciel dérivé de Kodi qui à la différence de ce dernier, est capable de convertir la médiathèque pour faciliter son partage en streaming.
L'achat In-App de trop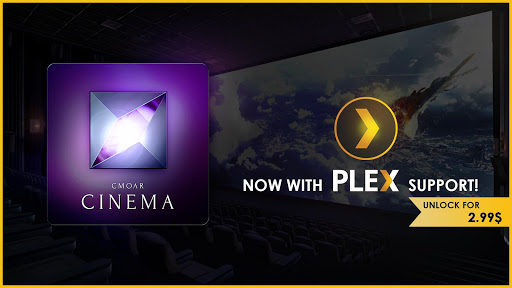 Bien que pratique, cette option est facturée par le biais d'un achat In-App sur une application d'ores et déjà payante. Cmoar VR Cinema Pro coûte 5.60€ et cette fonction est facturée 3.30€ supplémentaire, une politique difficile à comprendre pour une société qui accuse plus de 6 mois de retard sur la sortie de son casque et qui aurait tout intérêt à soigner son image.
Les fonctionnalités de VR Cinema Pro
Local Plex Support as In-App (2.99$) !
DLNA Support (Free) !
LAN streaming support
All video formats support ( .mp4/.mkv/.avi/.mov/.ogg/ etc.)
Watching Youtube videos (1080p 2D)
Watching Youtube videos (1080p 3D)
Gamepad Support ( 1-dot click to enable, 3-dot to reset orientation)
All external SD card support
Dynamic Lighting
3D menu interface
Auditorium variations
Automatic downloading of subtitles and posters
Possibility to add every movie to Favorites
Multitude of various settings (eg. FOV)
New 3D camera
Voice search
« Last-viewed" option
À l'usage est-ce fonctionnel ?
Beaucoup de fonctionnalités pour une application qui malheureusement est devenue au fil des mises à jour, instable. Les crashs sont nombreux, le drift est présent et sur nos modèles de test, chaque lancement d'une vidéo enregistrée sur une carte mémoire ou lue par LAN s'est soldé par un crash de l'application.
Le Head-Tracking comporte aussi quelques bugs particulièrement gênants, il nous est arrivé à plusieurs reprises de ne plus pouvoir bouger sur l'axe horizontal.
Cmoar VR Cinema Pro était l'un des meilleurs cinémas virtuels pour casques VR mobiles, malheureusement en plus d'une politique tarifaire à la limite de l'escroquerie, l'application est devenue une véritable usine à gaz, particulièrement instable.
Ou sont passé Cmoar TV et Cmoar 360 Player ?
Depuis quelques mois Cmoar a purement et simplement supprimé du store ces deux applications sans proposer la moindre contrepartie aux personnes ayant acheté ces dernières. Contacté par nos soins à ce sujet, Cmoar nous a indiqué vouloir proposer des nouvelles versions ultérieurement, c'était il y à 6 mois…
Ces applications ayant été supprimées du store, ces éventuelles nouvelles versions seraient donc encore une fois facturées. Si vous êtes passé à la caisse pour l'une de ses applications ou les deux, nous vous invitons à demander un remboursement.